Sports Guards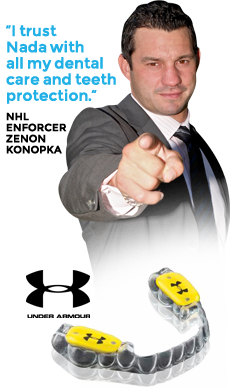 Have your sports guard made by the same dentist who makes sport guards for some NHL Hockey Players!
We offer both standard sports guards and Under Armour sports guards. For contact sports, including hockey, rugby, soccer, football, boxing, lacrosse, sports guards are a necessary part of your gear to protect your teeth and jawbones from damage, injury, or fractures.
For non-contact sports, Dr. Albatish works with Under Armour to custom-make a performance enhancing small mouthpiece which helps to relax your muscles, reducing stress hormone release in your body, and improving your overall performance.