Laser Gum Therapy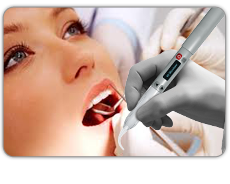 Benefits of Laser Gum Therapy
No Cutting!
No Stitching!
No Bleeding!
Kills Bacteria
Little discomfort during and after laser therapy!
Have you been told you need gum surgery? Do you periodontal disease? Bleeding gums? Gum pain? Bad breath? Do you have mouth ulcers? Cold sores? Laser gum therapy is the solution for you.
Gum Surgery can also be performed without incisions! Painless results with incredibly fast healing and revolutionary ability to regenerate your own tissues so you no longer have to lose your teeth.
Newmarket Dentist Dr. Nada Albatish is pleased to offer Laser Gum Therapy for the comfort of our patients at NO ADDITIONAL CHARGE compared to more invasive and more painful surgical procedure!
Call Newmarket Dentist, All Smiles Dental Centre at 905-235-6999 to book your appointment.