Preventative Teeth Cleanings
Preventative Teeth Cleanings
In this video, Doctor Albatish explains why it's necessary to have your teeth cleaned regularly.
Dr. Nada Albatish was the recipient of the Preventative Dentistry Award from the University of Toronto, Faculty of Dentistry in 2007.
We invite you and your family to our Newmarket dental office for a gentle dental cleaning. A thorough gental dental cleaning and regular thorough dental assessments are your #1 defense against the "bad" bacteria that cause dental problems. This is your chance for dental cavities and gum disease to be caught early – before you have any pain or lose any teeth. Many patients are so happy when small problems are treated early, even without the need for dental freezing (needles)!
During this procedure, your teeth will be cleaned completely from tartar which can develop in hard to reach areas, even in patients with excellent brushing and flossing habits. Your teeth will be polished, and you will have the option for fluoride treatment to help strengthen your teeth and prevent cavities.
For optimal health for both adults and children, healthy mouths should be professionally cleaned once every 6 months.
For patients with gum disease, gentle deep cleanings can be recommended every 3 or 4 months to help you prevent the worsening of gum disease.
Good oral hygiene combined with regular professional cleanings at our Newmarket dental office helps to prevent cavities, tartar build-up, gum disease, and tooth loss.
Prevention is the key to good dental health.

Laser Gum Therapy
Laser Gum Therapy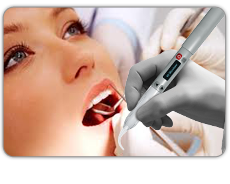 Benefits of Laser Gum Therapy
No Cutting!
No Stitching!
No Bleeding!
Kills Bacteria
Little discomfort during and after laser therapy!
Have you been told you need gum surgery? Do you periodontal disease? Bleeding gums? Gum pain? Bad breath? Do you have mouth ulcers? Cold sores? Laser gum therapy is the solution for you.
Gum Surgery can also be performed without incisions! Painless results with incredibly fast healing and revolutionary ability to regenerate your own tissues so you no longer have to lose your teeth.
Newmarket Dentist Dr. Nada Albatish is pleased to offer Laser Gum Therapy for the comfort of our patients at NO ADDITIONAL CHARGE compared to more invasive and more painful surgical procedure!
Call Newmarket Dentist, All Smiles Dental Centre at 905-235-6999 to book your appointment.

Invisible Braces
Invisible Braces
A Straight Smile is a Healthy Smile!
Invisible Braces
Have your teeth straightened with the clear alternative to metal braces. Invisalign aligner trays are made of smooth, comfortable, virtually invisible plastic that you simply wear over your teeth. There are no metal parts to invisalign and no wires to tighten, and best of all you get to have the smile you've always wanted without anyone even knowing that you are straightening your teeth!
Starting at $1999
Call us for your FREE CONSULTATION! 905-235-6999
---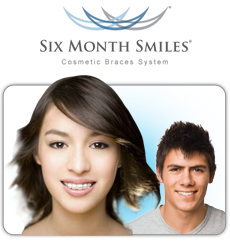 Clear Cosmetic Braces- Straighten Teeth in Six Months
White braces, white wires, white elastics! Comfortable adult orthodontics to straighten your teeth in about 6 months.
Starting at $3499
Call us for your FREE CONSULTATION! 905-235-6999

Orthodontics
Orthodontics
Conventional braces to straighten children or adult teeth in an average of 2 years. For more complex cases, and for children's orthodontics, conventional braces are recommended to straighten crooked teeth, close spaces, and create a beautiful smile for life.
Starting at $3999
Call us for your FREE CONSULTATION! 905-235-6999

Dental Implants
Dental Implants
If you have lost one or more teeth, we can replace your teeth with Dental Implants.
Dental Implants are the closest replacement for a natural tooth, and are cosmetically your most superior treatment option.
Contact All Smiles Dental, Newmarket Dental Office at 905-235-6999 for your complimentary Dental Implant consultation!

Nightguards
Nightguards
For patients who grind or clench their teeth, we can make you a custom nightguard or day guard to protect your teeth, gums, facial muscles, and jaw joints from damage that is caused by the forces of grinding and clenching.
Newmarket Dentist Dr. Nada Albatish in coordination with her preferred dental laboratory, will take molds of your teeth to custom-make for you a special nightguard which is thinner and more comfortable than the usual nightguards that patients have. Dr. Albatish's high comfort custom nightguards are durable, and more likely to be worn every night by patients because they are so comfortable and your mouth actually feels good when you put it on.
Call Newmarket Dentist Dr. Nada Albatish at All Smiles Dental Centre to schedule your appointment to discuss protecting your teeth from grinding or any other dental concerns you have.

Protective Guards
Protective Guards
Migraine Prevention
So many people suffer from migraine headaches and have gone back and forth to their doctors and hospitals for tests and xrays, only to find there is no cause for their migraines. It has now been shown that an overwhelming number of migraine headache patients actually have dental causes.
For patients with recurrent migraines, Dr. Albatish uses a special system for making teeth guards which has been clinically shown to prevent migraines!
These guards are actually much smaller than standard nightguards and only cover a few of your front teeth. Dr. Albatish can custom make this special migraine-preventing guard for you in just one visit.
Be one of many patients to thank Dr. Albatish for getting your days back simply by having a special custom guard made to prevent your migraines. It really works!
Call Newmarket Dentist Dr. Nada Albatish at All Smiles Dental Centre to schedule your appointment to discuss migraine prevention!

Sports Guards
Sports Guards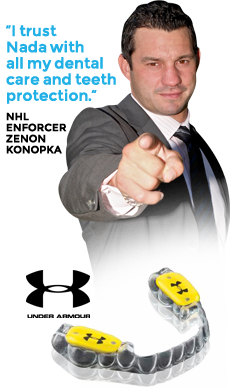 Have your sports guard made by the same dentist who makes sport guards for some NHL Hockey Players!
We offer both standard sports guards and Under Armour sports guards. For contact sports, including hockey, rugby, soccer, football, boxing, lacrosse, sports guards are a necessary part of your gear to protect your teeth and jawbones from damage, injury, or fractures.
For non-contact sports, Dr. Albatish works with Under Armour to custom-make a performance enhancing small mouthpiece which helps to relax your muscles, reducing stress hormone release in your body, and improving your overall performance.
Cosmetic White Fillings
Cosmetic White Fillings
We use tooth-coloured mercury-free fillings to fix chipped teeth or cavities. Dr. Nada Albatish is so skilled at working with white fillings that you can't even tell the difference between a filling and your own tooth! Dr. Albatish was recorgnized by the University of Toronto and by 3MESPE Canada for outstanding clinical abilities in restorative dentistry (dental fillings!).
Call All Smiles Dental Centre at 905-235-6999 to schedule your appointment with Newmarket Dentist Dr. Nada Albatish.

Cosmetic Veneers
Cosmetic Veneers
We offer cosmetic treatment with veneers, which cover the fronts of your teeth and hide stains and crooked teeth. Within just two weeks, you can have a Hollywood smile- the straight, white teeth that everyone wants. Dr. Nada Albatish is highly skilled in creating cosmetic veneers- you will love your new smile!
Call All Smiles Dental Centre at 905-235-6999 to schedule your appointment with Newmarket Dentist Dr. Nada Albatish.

Teeth Whitening
Teeth Whitening
We offer both Take-Home Whitening and ZOOM! In Office Whitening.
Take-Home Whitening is administered via custom-made bleaching trays and a professional strength whitening gel applied daily for 14 days.
ZOOM! In Office Whitening can whiten your teeth up to 8 shades in just one hour! The results are truly amazing, and patients are always WOW'd by the whiteness and brightness of their smile in just one visit.
Call All Smiles Dental Centre at 905-235-6999 to schedule your appointment with Newmarket Dentist Dr. Nada Albatish.

Smile Makeovers
Smile Makeovers
Dr. Nada Albatish was recognized by the University of Toronto for outstanding clinical abilities in Crown and Bridge Dentistry. We can offer you high-quality, long lasting, excellent crown and bridge restorations to rebuild, protect, or replace your teeth.
Some patients find that they have teeth repeatedly breaking, shortened front teeth, or are just really self-consious about their less than desired appearance of their smiles.
These patients may have received "patchwork" dentistry over the years that have led to poor function and diminished cosmetics as time has passed. This could be as simple as a front crown that doesn't match the other teeth or as complex as multiple missing teeth with the subsequent shifting and breakdown of the remaining teeth.
Whatever the reason, Dr. Albatish comprehensively examines each patient's mouth as a whole. Through careful evaluation of all the information such as radiographs (xrays), photographs and models of mouth. Dr. Albatish works with each patient in a relaxed and no-stress manner to determine a completely individualized treatment plan based not only on her clinical findings but also with the needs and wants of each patient, and where necessary, will prescribe a treatment plan that will restore the whole mouth so that is works together not only beautifully but comfortably as well.
It is important to Dr. Albatish to create an affordable and comfortable solution for her patients.
Contact All Smiles Dental Centre at 905-235-6999 to schedule your appointment with Dr. Nada Albatish for a complete evaluation and alternative solutions for your smile.

Root Canals
Root Canals
If you have a tooth ache or broken tooth, you may need a root canal if you want to save your tooth. Root canals have an extremely high success rate and have helped patients to keep their teeth over many many years.
Root canals are usually not painful, and most patients even fall asleep during this procedure at the hands of Dr. Albatish! Dr. Nada Albatish is extremely gentle, caring, and skilled in root canal treatment. Dr. Albatish has even received compliments from specialists and continuing education teachers on her abilities in root canal treatment.
Call All Smiles Dental Centre at 905-235-6999 to make your appointment with Newmarket Dentist Dr. Nada Albatish.

Wisdom Teeth Extractions
Wisdom Teeth Extractions
It is the standard of care today to remove wisdom teeth for patients under the age of 25, particularly patients who have had braces in the past. Many patients have wisdom teeth growing in awkward directions in their mouth and require extraction.
For older patients, wisdom teeth can cause problems throughout their lives and many patients have wisdom teeth removed as they start to cause them pain and problems.
Dr. Nada Albatish offers gentle and skilled wisdom tooth removal, and give her patients the option of sedation during surgery.
Call All Smiles Dental Centre at 905-235-6999 to make your appointment with Newmarket Dentist Dr. Nada Albatish.

Sedation
Sedation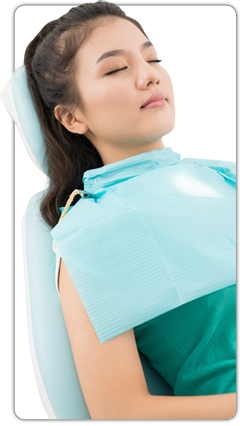 Sedation and Sleep Dentistry
We offer all ranges of sedation for patients of all ages, from infants right up to seniors.  If you are anxious or require extensive dental work, sedation and Sleep Dentistry is designed to make your appointment seamless and comfortable.  All Doctors administering the sedation are licensed providers of that modality, and our facility permit for sedation allows us to perform all levels of sedation right in our clinic.
---
Oral Sedation
Mild Sedation option for anxious patients, where the patient arrives one hour before their appointment to be given a medication that will relax them before their appointment begins.
---
Nitrous Oxide-Oxygen Sedation (Laughing Gas)
A mask is worn on the patient's nose for the duration of the appointment.  Breathing the gas will make the patient feel relaxed.  This gas is safe for patients of all ages, and wears off within 5 minutes of the completion of the procedure.  Adults do not require an escort and will be able to drive themselves home at the end of the appointment.  
---
IV Sedation
This is a stronger type of sedation where we inject a sedative drug right into the person's bloodstream.  We generally use this type of sedation for surgery appointments including wisdom teeth removal, implants surgeries, and  sinus lifts.
---
General Anesthesia (Sleep Dentistry)
Our licensed anesthesiologists specialize in putting patients of all ages to sleep in the safest way.  They monitor the patient every second for the duration of the procedure and safely wake up patients once the dentistry in complete.  General anesthetic is a good option for anxious patients requiring extensive dental procedures, from young toddlers and young children right to older adults. 
Call our office to schedule your consultation for Sedation or Sleep Dentistry with our skilled Doctors at 905-235-6999.
Nursing Home Care
Nursing Home Care
Contact our office to schedule on-site dental check ups for yourself or your loved ones in nursing home care.

Financing
For our patients' convenience, we accept ALL dental insurance plans and we will file your claim and handle all paperwork on your behalf.
We accept payment directly from your insurance company, as long as your insurance company allows direct payment to our office.
For long term treatment, such as orthodontics, we also offer monthly, no-interest payment plans. These arrangements are made on a case by case basis, depending on your individual treatment plan, schedule, and budget.
We also cater to our patients by offering interest-free financing for all or part of your procedure through a specialized health financing firm. The application can be easily completed right in our office and in most cases, you can start your procedure right away. You may prepay or pay in full without penalty at any time. A member of our team would be pleased to assist you.
Our goal is to make dental care easy, convenient and affordable to you and your family.